EZSort is an internet based application that facilitates the delivery of accounting documentation from a client to his or her accountancy firm. Not only this, but the client, who is the person who really knows which invoices have been paid how and when, at the same time gives the necessary information about this to the accountancy firm to greatly simplify the bookkeeping process. It´s very important to underline and stress that EZSort does not encumber the client with tasks that he would not otherwise perform.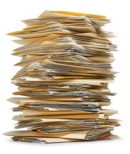 Existing online bookkeeping programs require the client to key in quantities, VAT, retentions, type of cost, date, invoice number etc etc. In this case they would be performing part of the accountancy firms tasks! With EZSort, the client of the accountancy firm does not have to introduce text or numbers, everything is done by selecting with the cursor and clicking!
EZSort does not depend on any specific accounting program or application.

Any current accounting program can work immediately and seamlessly together with EZSort, and no other importing, exporting or adaptable module has to be bought or installed. You can be up and working in minutes!